The
Donghua Liu saga
has just got even more dangerous for the John "drop the insinuation then duck" Key as The Herald is forced to publish an
altered statement
from Mr Liu that changes much of his original statement.
It now appears that Mr Liu is claiming to have donated $2000.00 to the Hawkes Bay Rowing Club Branch of the NZ Labour Party and $60,000+ to The Yangzte Concrete Factory Branch of the NZ Labour Party to give the "honorable members a luxury cruise as a reward for their hard work making concrete for honorable building projects."
The claim that he purchased a bottle or bottles of wine at a Labour Party Auction on June 3 2007 has also been
shot down
in flames as searchers have now identified the
auction
being one run by The Midland's Hawkes Bay Wine Charity at which
no wine
was sold at the inflated price Mr Liu claims to have bid. The Herald's new story now has Rick Barker receiving the bottle of wine from Mrs Liu rather than, as was originally alleged "giving it to her." The Herald is certainly
back tracking
all over the place on this story.
I look forward to the front
Page apology
to David Cunliffe, the NZ Labour Party and the long suffering NZ public who have had to put up with irresponsible reporting from the paper for far too long.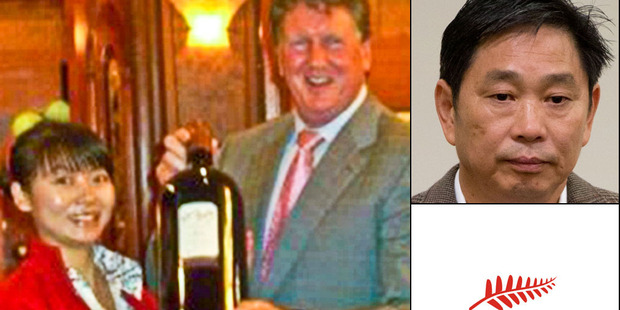 Left, Rick Barker receiving a bottle of wine from Donghua Liu's (top right) partner Juan Zhang. Photo / Supplied, NZ Herald
The questions need to be asked loudly, clearly and many, many times to John "Scuttle and Run" Key, Cameron Slater, Jami-Lee Ross and others close to Maurice Williamson and Donghua Liu "Who wrote the original statement for Mr Liu and who fed it to Key and Jared Savage?" and "Did Mr Liu really understand what he was signing because, as Mr Williamson claims Mr Liu speaks and reads minimal English?"
POST SCRIPT: 1) The
Fairfax stable
is now asking questions about the Herald's reporting and the Key involvement in the Donghua Liu situation. About time the blow torch was applied to the links between The Herald and the Ninth Floor of the Beehive.
2) Radio New Zealand Morning Report Political journalist declares that the Liu story doesn't stack up (27.6.14).
3)
NZ Herald
attempts to back off from its inept reporting by
lampooning
itself in an editorial claiming to be a crusading, reputable news-sheet and reducing the alleged "donations" from Liu to $38,000 in a series of anonymous donations over several years to different un-named MPs.